P/N GS-0032 Bolt Servicing Tool For All 7,62 x 39, 7,62 x 54R, 7,92 x 57, 5,56 x 45, and 5,45 x 39 Kalashnikova Rifles & Pistols
Price: $100.00 (+ Applicable Shipping Costs & Fees)
The GS-0032 is a base to hold the bolt for servicing, and is identical in function to the unit that is part of the armorer's tool kit. This base secures bolts so that stubborn pins can be safely driven out and driven in after repair. Like the original base it has a diameter 11,0mm hole to hold the bolt stem so the projection of the firing pin can be measured accurately – provided the base is on a flat surface. It is manufactured of hardened steel for long service life.
A short sleeve manufactured of AISI 4130 is furnished to support bolt stems from 5,45 x 39 rifles and similar rifles that use the "small stem" bolt.
Base arranged for removal of dowel pins.

Base arranged for installation of dowel pins.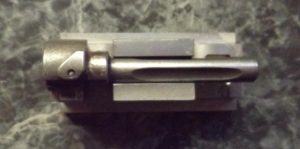 Base arranged for measurement of firing pin protrusion.