P/N GS-0034-A & GS-0034-Z Trigger Guard Rivet Removal Jigs
Price $39.00 (+ Applicable Shipping Costs & Fees)
The GS-0034- is a simple tool designed for the quick removal of rivets from the trigger guard. It has an integrated simple clamp and is self-locating and self-holding for quick work. There are no external clamps to obstruct the drilling operation.
The GS-0034-A is designed for all AK, AKM, and RPK rifles, and the GS-0034-Z is designed only for Zastava rifles with their larger rivet hole frame. Both tools are manufactured from hardened AISI A2 tool steel for long life.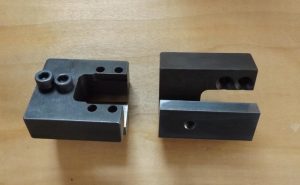 It matters not whether the tool is used on a fully-assembled rifle or on a section of a demiled rifle as seen below. Simply slide the tool in place and nest the rivet heads in its pockets, adjust the rear screw until the jig is parallel to the receiver's  lower plane, and then use a diameter 4,0mm or 0-5/32″ drill bit to merely remove the heads, or drill any depth including all the way through. As long as the tool is parallel to the receiver base it is 100% aligned.