P/N GS-0033 Magazine Catch Clamp For All Kalashnikova Rifles & Pistols
Price: $60.00 (+ Applicable Shipping Costs & Fees)
The GS-0033 is a clamp assembly that has the function of the specialized pliers that were a part of every AK armorer's tool kit. This clamp fits the standard catches as well as the bulged catches of the Polish and East German rifles and the slightly longer dimpled catches of the Krinkov SBR's.
One of the most hateful tasks of building or servicing these rifles is the removal and especially the installation of the magazine catch due to the limited space and the high spring tension. Unlike the specialized pliers, the clamp can be used to hold a magazine catch as long as needed – allowing one's hands to be free for other tasks. It is manufactured of hardened steel for long service. While this tool is not a magazine clamp gauge, the lip that contacts the tip of the magazine catch is machined to 98-degrees and can be used to verify proper shape of the magazine catch.
A pointed diameter 5,0mm slave pin made from hardened steel is included with each set of pliers.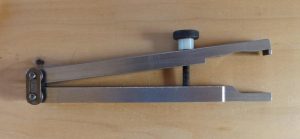 GS-0033 shown in use to extract (upper half) a magazine catch, and with a catch stored and spring compressed (lower half) ready to install. Note – the slave pin was used to keep the spring in place while the pliers were tightened.