AK47 Tools For Use By The Discriminating Craftsman
The photograph above is an example of the tools I sell for the safe disassembly and assembly of all Kalashnikova variants of AK47, RPK, AK74, Krinkov, PSL, and SVD rifles. These tools are the pressing plates, sets of pressing tubes, barrel push-back and push-out tools, and pin pushers and press ram adapters. Just refer to the tab above named "AK Barrel Assembly Tools" and select what you need from the drop-down menu and then send your request to me via Email at Robert.Forbus@robertforbus.com and I will return with availability and pricing.
I know that I should not need to mention this, but I will do so anyway. All of the tools that I sell require a significant amount of force to fulfill their task and there is always a hazard of a tool shattering or suddenly flying from a press. At a minimum please wear shatter-resistant eyewear, a.k.a. safety glasses, goggles, or faceshield when using any of these tools.
---
Kalashnikova Rifle Dimensional Data Worksheet In Progress – Update 27, November 2016
specifications-all_rifles27november2016
How Do You Order Tools From Me? I am not set up for credit cards at this time – maybe someday. I do accept personal cheques, money orders, and PayPal as long as it is paid as "Goods & Services". Generally speaking; unless the item is a custom tool or machine part I do not require any payment up front.
I usually have everything that I sell in stock but many of the items I sell are produced in run groups from four (04) to forty (40) parts and I occasionally may be out of an item or a component of an assembly and have them in the work schedule. I can give you a fairly accurate ready date barring emergency or contract work that takes me temporarily off premises. When you to write me as a new customer; please give me your first and last name because I build/edit a job folder for everyone.
I have isolated certain tools by the rifles they are designed for. If you are not 100% sure of what you need; you can send me an email with your questions or for a much quicker response you can call me at 615 390 5645 any day any time. In a typical day I receive about one-hundred (100) email messages and it takes time to get though them.
Stock Status Update 1915 Friday 17. November 2017
Tool
Description
Stock?
Qty.?
When?
GS-0001
AKM, AK74 plate tool
Yes
03
GS-0002
Romanian M1964 RPK plate tool
No
00
01-Dec
GS-0003
Zastava M72 RPK plate toolset
Yes
09
GS-0004
Zastava M70, milled AK, Norinco plate toolset
Yes
01
GS-0005
Barrel push-back/push-out assembly – all models
Yes
04
GS-0005-D1
AK, AK74, RPK chamber face brass pad
Yes
04
GS-0005-D2
PSL, Vepr 54R chamber face brass pad
Yes
02
GS-0006-ABCD
AKM AK74 AK tube set
Yes
04
GS-0006-AGHJ
Zastava M72 RPK tube set
Yes
11
GS-0006-AEF
Romanian M1964 RPK tube set
Yes
01
GS-0006-DKLM
Romanian PSL tube set
Yes
01
GS-0006-NPQR
Zastava M76 tube set
Yes
03
GS-0007
Breech pin plate toolset – all models
Yes
03
GS-0008
Barrel push-out tool – all models
Yes
04
GS-0009
AKM AK74 M85 M92 Krinkov plate tool
Yes
03
GS-0012-A
Press ram diameter 0.95"/1.25" adapter
Yes
05
GS-0012-B
Press ram diameter 1.25"/1.61″ adapter
Yes
06
GS-0012-C
Press ram diameter 1.60"/2.00" adapter
Yes
01
GS-0012-D
Press ram adapter for Dake B10 or F10
Yes
02
GS-0012-E
Press ram diameter 0.68"/0.75" adapter
Yes
02
GS-0015-A
Zastava/Bulgarian/Polish pistol grip nut rivet bucking block
Yes
19
GS-0015-B
Russian Type III (only) pistol grip nut rivet bucking block
Yes
02
GS-0017-ABCD
Chuck & pin set for diameter 3,0mm & 4,0mm dowel pins
Yes
06
GS-0017-ABCDEF
Chuck & pin set for diameter 3,0mm, 4,0mm, & 2,5mm dowel pins
Yes
03
GS-0018
AK74, Krinkov, M85, M92 M26 x 1,5mm & M24 x 1,5mm tapped plate
Yes
02
GS-0019
SVD receiver wrench
Yes
02
GS-0021-A
AKM, AK74 front sight gas block pin plate
Yes
10
GS-0021-B
AK front sight gas block pin plate
Yes
02
GS-0021-C
M72 front sight gas block pin plate
Yes
04
Reserved
Reserved
Res
Res
Res
Reserved
Reserved
Res
Res
Res
GS-0030
Press bed bar set
Yes
02
GS-0031
Receiver Fire Control Group Drilling Jig
No
00
GS-0032
AK/AKM/RPK/PSL/AK74 Bolt Tool
Yes
08
GS-0033
Magazine Catch Pliers & Slave Pin
Yes
12
GS-0034-A
Trigger Guard Rivet Drilling Jig – AK/RPK
Yes
09
GS-0034-B
Trigger Guard Rivet Drilling Jig – Zastava (only)
Yes
05
GS-0035
Piston Guide Tube Latch Tool – all models
Yes
04
Reserved
Reserved
Res
Res
Res
GS-0037-A
Flaring Punch for lower handguard latch
Yes
02
Res
GS-0037-B
Flaring Punch for piston guide tube latch
Yes
02
Res
Reserved
Reserved
Res
Res
Res
Parts Now In Stock
Many of the Zastava M72 and M70 rifles are missing dowel pins for the individual blocks. I offer a set that fits the M64, M70, M72, and M76. These are sold only as complete sets – not individual pins. These are cut from hardened gauge pins, chamfered, and tempered The price shipped is $19.67 cheque/money order or $20.56 PayPal "goods and services". I plan to keep these in stock.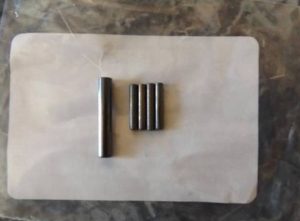 Many Romanian rifles with the sidefolding stock are missing screws. These screws are of special head diameter and shank length and not available as general hardware items. The original screws are similar to a Fillister head type that is obsolete, although they do occasionally appear. The type I sell are modified socket flat head screws that have the head machined and the short length required of the outermost screw, and are blued.
The price shipped is $5.00 cheque/money order or $5.45 PayPal "goods and services". I plan to keep these in stock.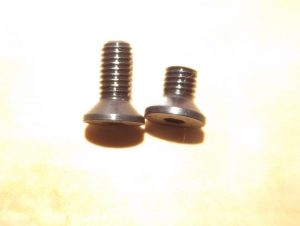 Robert Forbus is a toolmaker and a senior mechanical engineer with a career spanning  four (04) decades of ground-up design, manufacture, and assembly of machinery as well as plant process systems. I have intimate familiarity with printing presses, finishing equipment, web-handling equipment, stamping/forming dies, and a wide array of other machine tools.
While this website is dedicated to the various builder and armorer tools sold by me, my engineering expertise and project management experience is "for hire".