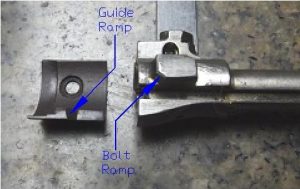 Important Settings/Adjustment To Ensure Proper Bolt Action – Especially When Fitting A New Bolt 
Please Refer To The Document Linked Below:
There are some excellent and inexpensive technical references for the headspacing and other critical building/repair methods for these rifles. The original manuals of the DDR have been translated and reworked by Mr. John Baum and a couple I recommend can be found at https://www.germanmanuals.com/manuals.html . I recommend "AK47 Repair Manual – East German Issue" and "MPi (AK-47) and Makarov Pistol Tool Kit Manual – East German Issue". These are not "how to build" manuals but they present all of the critical points of assembly not covered by other peoples' publications and the specific tools used – many of that I sell.